Guide to find a job in Spain as a student
When? Where? which sector? How?…
If you are EU, EEA, and Swiss citizen and you are a student going to Spain, you have the right to live and work in it without a visa permit.
In case you are planning to stay longer than three months, you will have to register with the authorities and obtain a residence certificate. Mainly, your University will give you all the requirements. Since you will need to prove you can support yourself financially and have healthcare insurance.
After you have this in place you will have the same chances of getting a job as well as someone from Spain.
Most job offers for college students in Spain are seasonal, meaning that they are only certain months when you will be able to work. On the other hand, it is possible to get an internship to work in Spain as a university student as well. In that case, you should contact directly with your career center at your university.
When it's the best time?
For French and English-speaking jobs in Spain, seasonal work in the tourist trade and teaching your mother tongue in Spain are both popular sources of employment for foreigners. For other types of jobs, you will need to speak Spanish. However, in Student's Mobility, we have numerous language schools in Spain, check our services.
We organize gap years and summer language courses to learn Spanish and to improve your opportunities to get into a Spanish university.
Work journey and payment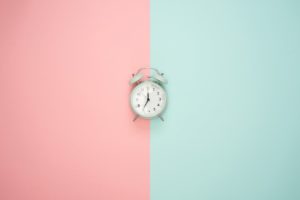 Working full-time in Spain represents work 40 hours per week, from 9am until as late as 8pm, with lunch breaks between 2pm and 4–5pm in some companies.  It might difficult to find something to work part-time and combine your studies. That's why it is in your best interest to start the research as early as you possibly can.
On average the wages, you will earn are less than in France or other parts of the EU. It's the third lowest paying country in Europe. Nevertheless, you can have a ton of other perks, which include low cost of living, 24 days of vacation per year (for full-time employees) and great work conditions and ambiance.
The minimum salary (Salario mínimo interprofessional) (SMI) per month in Spain is 1,050,000 EUR, 30 percent less than in France, where the minimum amount is 1,521.22 EUR. Once you hold a bachelor's degree the average yearly salary is 13,300 euros or even more depending on your employer.
Where to find a good job opportunity?
You will find, the large expat populations along Spain's coastal regions and in major cities, such as Madrid, Barcelona, and Seville. Companies with an international presence tend to be in sectors related to:
Tourism

Infrastructure development

Renewable energy

Banking

Insurance

Textiles

Healthcare technology

Aeronautics

Agriculture

Automotive industry.          
You might need to look for those sectors. For graduate work, you'll still be competing against Spanish graduates, reason why it's important to choose the industry which has more offer.
What industry or sector is demanding more workers?
Consulting, industry and IT sectors have been growing in the past years. This represents an increment of the workforce.
However, if you are looking for part-time work, there a ton of supermarkets, department stores, pubs, restaurants, and bars in which college students can seek employment.
The most required jobs are mainly in teaching (including language teachers and in universities), mechanical, industrial and production engineers, computing and business experts, commercial relations, medical practitioners, web and multi-media development, real estate, hotels, restaurants, and tourism.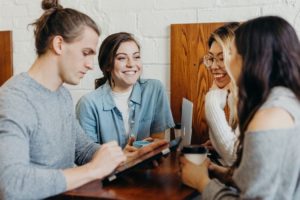 How to find a job in Spain?
Lots of people find work through informal routes. Networking and word-of-mouth are common ways to get a job in Spain, especially in small to medium-sized companies. We recommend you to be proactive and seek out opportunities on agencies and adverts.
Also, here you will find a list of websites where you may find job opportunities:
EURES
Eures (European Employment Services): You can search for work and post Cv's and get advice on the legal and administrative issues involved in working in Spain.
SEPE
The Public State Employment Service (Servicio Público de Empleo Estatal) or SEP  shows information on vacancies, training courses, and advice on job seeking.
There are other options to search for jobs, for example, the job government portal Empleate or you can also check Sistema Nacional de Empleo for local employment offices and job vacancies.
Create your own networking in Spain
As you will know now, lots of jobs aren't advertised openly in Spain and many are based on word-of-mouth or personal contacts. In Student's Mobility, we post job offers on our LinkedIn page. We suggest you check the LinkedIn profile of the companies that you might feel interested in.