Cost of living in Spain as a student
Before moving to Spain to start your studies, you'll need to know how much you are going to spend every month. In this article, we will show you the expenses that you probably will cover. Of course, it depends on your lifestyle and the choices that you made.
How much does it cost to live in Spain?
It will cost the average student between 900 to 1000 per month to live in Spain if you include rent, utilities, food and leisure activities for one person.
This cost depends on where you live and your lifestyle. Some students have a limited budget and the others count with their parent's support.
Another point to consider is your location. For example, living in a capital city or other popular areas will cost you more than cheaper areas. Even though, the costs of living in Spain are about 20% less than living in other European countries. You should set your monthly budget accordingly with this expense and make sure that you are living comfortably while you attend your university in Spain.
Here you have a rough monthly budget for a university student: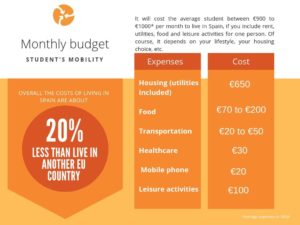 Lower Cost, More French students
Many French students go to study in Spain in order to learn a new language, live abroad and have a career that has the same recognition.
In fact, Spain welcomed 8,298 French students in 2017/18, up to 6.3% than in previous years, being the first option for them. Spain is considering the number one destination for young French people to study abroad, follow by Germany, Italy, Belgium, and Ireland.
 The reason? Spain has a language spoken by many people around the world and its lower cost of living compare with other countries.
Cities in Spain
Even cities such as Barcelona and Madrid (the most expensive cities in Spain) can compete with Paris, which is considered the most expensive city in the world
For example, calculations from Numbeo, show that "you would need around 4,631.53 in Paris to maintain the same standard of life that you can have with 3.200.00 in Madrid".
Just rent prices in Paris are 44.95% higher than in Madrid and 39.77% higher than in Barcelona.
 Additionally, Madrid and Barcelona are likely to be prolific and with a good paid for new graduated. Therefore, these Spanish cities and many others, like Valencia, Zaragoza and the Canary Islands are good options to study abroad.
The Monthly Cost in Spain
Coming back to our monthly budget, how much exactly it will cost you to live in Spain? To understand every expense better, we need to divide it.
Housing
 The amount you will pay for accommodation is likely to be the biggest outgoing you will need to face in Spain. Do not panic! In Student's Mobility have a housing searching service, where the utilities are including in the price of the rent. Between 450 to 1000 euros, in the function of the city and the type of lodging, if you share a flat, the price will be cheaper.
Food
Usually, Supermarkets in Spain offer good quality products at a low cost. Basic food, such as milk, bread, and eggs are all under a euro and the price of wine, beer and cheese are enviable. In total, every month you will pay between 70 to 200 euros
If you go out to grab some food, isn't expensive either. Restaurants in Madrid and Barcelona serving traditional food for affordable prices. You can pay around €10 to €15 per person in a regular place and around 40 per person in some upmarket place.
Big fast food chains break this rule, because they mainly charge between 7 to 15 euros per meal, being expensive compared to local options. However, the home-made meals, such as tapas with a drink will be gentle with your pocket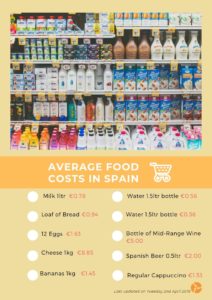 Transportation
The public transportation system is quite affordable. On average, you will expect to pay between 20 to 50 euros. One more time, it depends on the city where you live and if you are living near to your University. Subway tickets cost around 1,50 euros, but you can buy a monthly rate for young people that is 16 euros (from 7 to 25 years old).
Healthcare
This point is sponsored by the government, the reason why the costs are affordable for the majority. If you are a student in Spain, you will need to have the European Health Card (EHC). When you have the card, you can get all the costs reduced, and sometimes at no cost. 
Prescriptions are covered in 60% of the cost and 40% remain will be your responsibility. In case you have an emergency, you will be covered only when you use the public health services close to you. The average doctor visit will cost 50 euros if you don't have any insurance.
Mobile phone
For foreigners arriving in Spain, the best way to be connected is via a prepaid SIM card. Pay- as- you go options require a first and unique payment for a SIM card (usually €5) and a minimum of €10 in credit. Vouchers are also available for €15–20.
In Spain, prepaid SIM cards can be purchased via the internet and phone stores, supermarkets, Spanish mobile operators and international airports
Leisure Activities
There are many options to suit the needs and tastes of everyone. Museums, bars and pubs, zoos, markets, shopping centers, art galleries and more are affordable.
Additionally, Spain has tons of free things that you can do. As well as, parks, forests and outdoor activities. Overall, you may spend between 50 to 100 euros, depending on how often you go out. However, the prices are cheaper compared with France.